Eligibility
Yale accepts applicants into the Eli Whitney program regardless of their ability to pay and offers financial aid to students who need it. Students from a wide range of socioeconomic backgrounds qualify for need-based aid from Yale.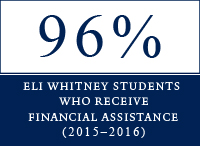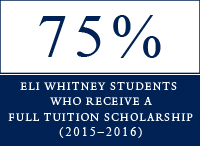 Policies
The Eli Whitney program offers students some flexibility not available to traditional undergraduates. For example, only Eli Whitney students may attend Yale College part time, and they are never required to live on campus. As a result of this flexibility, financial aid for Eli Whitney students differs from aid for traditional undergraduates in some ways:
Need-based gift aid is capped at the cost of your tuition.
Your tuition costs will vary depending on the number of credits you take, so if you add or drop a course, your tuition and financial aid will be adjusted as a result.
Because the maximum Yale scholarship you can receive is the cost of your tuition, the combination of Family Contribution and financial aid awarded may not cover 100% of your Estimated Cost of Attendance. Options for covering the difference include outside scholarships, employment, and education loans.
Read more about the Eli Whitney application process
Financial Aid Packages
Sample Estimated Cost of Attendance
The Estimated Cost of Attendance (ECA) estimates your total costs for one academic year at Yale, including tuition, books, and living and personal expenses.
The sample below shows the ECA for a student taking three course credits per term in 2017–2018. You may have higher or lower tuition costs, depending on the number of credits you take.
Tuition for 6 credits
($5,700 per credit)
$34,200
Room & Board
$15,500
Estimated books and personal expenses
$3,670
TOTAL
$53,370
Yale College uses a standard undergraduate budget for room, board, and books and personal expenses, regardless of whether a student lives on or off campus.
For more information on the Estimated Cost of Attendance, see the Costs page.
The Expected Family Contribution
The Expected Family Contribution (EFC) combines the amount that parents are expected to contribute annually toward their child's education with the student's own expected contributions from income and assets. Yale calculates each student's EFC individually, based on her/his financial and family circumstances.
As a nontraditional student, your family and financial circumstances may differ substantially from those of a traditional undergraduate. For example, Eli Whitney students are more likely to petition for the finances of one or both parents not to be considered in the EFC. If you have questions about your financial aid eligibility, or if you want to discuss your unique circumstances, please contact us.